Professional Movers in Manhattan. New York City. Your last minute moving jobs are always welcome.
We are the best affordable moving company you can trust compare to the other New York City Household and Commercial Moving Companies! Our packing and relocation services and special household moving services let you do as much as you like or as little as you like when it comes to your big or small move. As New York's best moving company, we would always find a way to do the right job for the right price.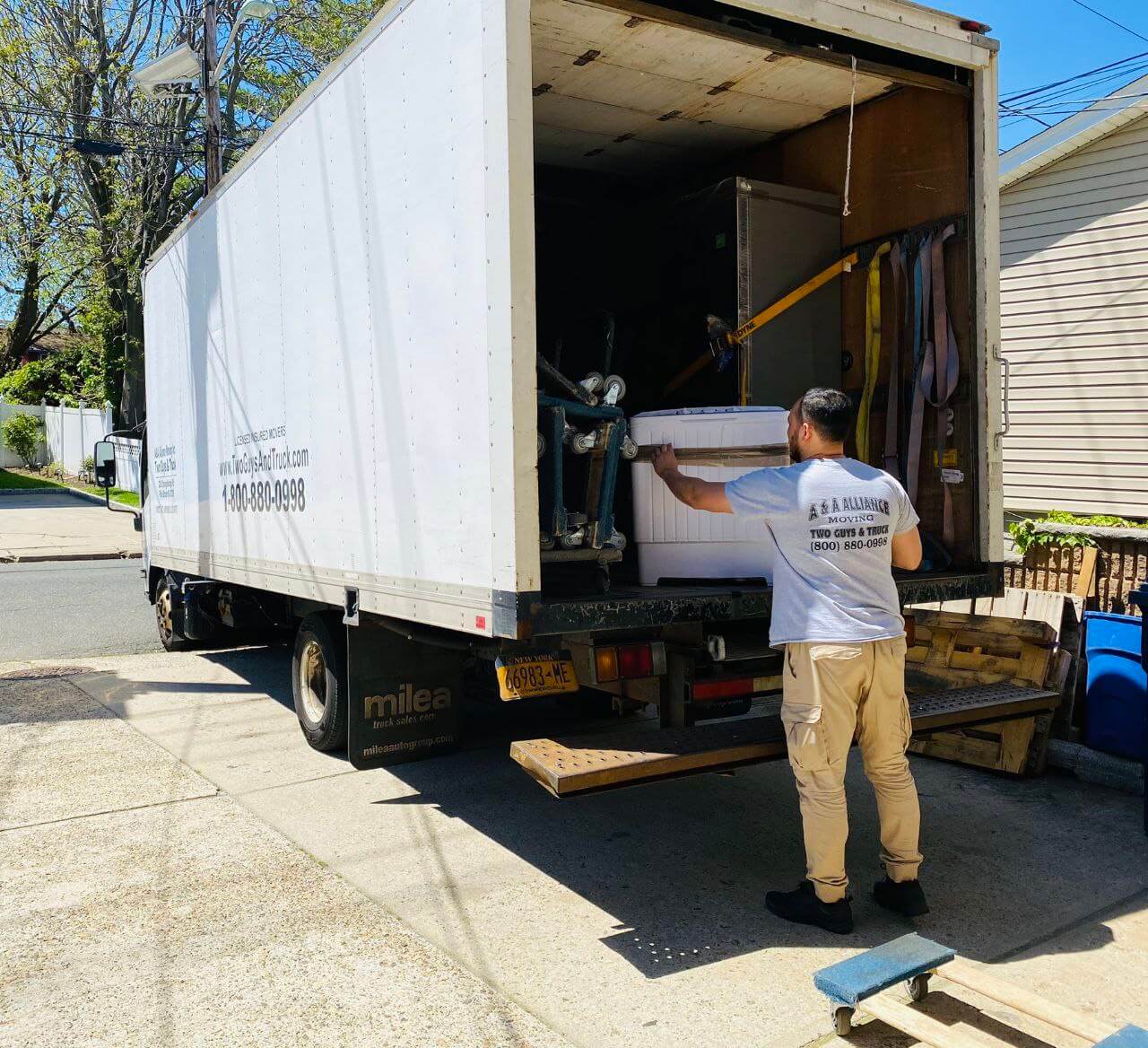 Our Services
Full Packing Service, Packing Materials and Boxes Delivery – We offer full packing services as well as a full range of any packing materials including wardrobe boxes, blankets, boxes, paper, tape, and bubble wrap. Many customers decide to pack themselves, and we will happily coach you on how to do that for no extra charge.
If you'd like our help packing, we can provide a very reasonable quote for you. Free Written Estimates/ Free Visual Estimates – We come to your location 7 days a week, during the day or evening, whenever it is convenient for you. Our written estimate will outline all the costs and expenses associated with your move. Insurance – We are Locally and Interstate licensed, bonded movers. Our trucks, your belongings , and our movers are insured. too. The flat rate moving quote is also available.
All work is being done by:
A&A Alliance Moving Inc dba Two Guys And A Truck. Licensed and Insured: NYDOT 34875 USDOT 967970 NJPM 000930
TWO GUYS AND A TRUCK A&A ALLIANCE MOVING INC ARE INDEPENDENTLY OPERATED AND NOT AFFILIATED WITH FRANCHISE TWO MEN AND A TRUCK.
Your business or personal items are so important to be safe that we provide free standard valuation protection plan (insurance). Two Guys and a Truck NYC Movers can handle your specific move with the exceptional care, precision and speed you deserve. Our movers are the most trusted and the most reliable, affordable and professional movers in the industry.
WE WILL BE ABLE TO PROVIDE WITH INSURANCE CERTIFICATE (COI) FOR YOUR SAFETY AND THE BUILDING MANAGEMENT.
ABOUT US
Our small team provided local moving services for residents and businesses in New Jersey, Queens, Brooklyn, Bronx, Manhattan, Staten Island and Long Island. In a matter of couple of years we have increased our business as Long Island movers and now provide long distance service to most of the continental US.
We have offices in Long Island, New Jersey, New York City and Florida. Our goal is to provide our customers with great service and at a low flat rate. We provide a full scope of services for residential and business customers. We offer local and long distance moving service, scheduled deliveries, storage, packing and piano moving. Our professional teams members will insure safe delivery of your belongings. Our services as Long Island movers are insured and we are fully licensed for Local, Intra and Interstate moves. With us you do not have to worry about a thing. So wether you moving across the street or across the continent, give us a call and leave your worries to us.
We service Nassau county, Suffolk county, New York City, Queens, Brooklyn, Staten Island, Manhattan, Bronx, New Jersey, Westchester, Riverhead, Great Neck, Hicksville, Roslyn, Merrick, Mineola, Freeport, Port Washington and all other areas